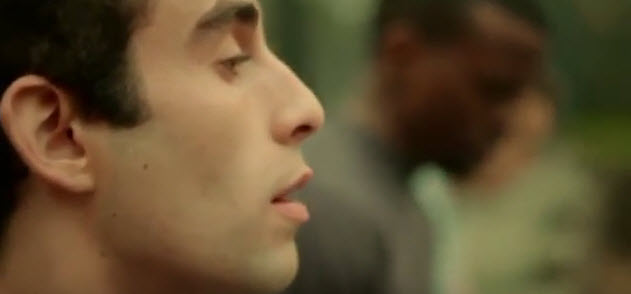 Three years after Boston bombing, film shows distress of attacker's friends
A new short produced by high school classmates of one of the Boston Marathon bombers, depicts their lives following the attack.
For days after the 2013 Boston Marathon bombing, Americans were glued to the news, eager to know who had planted the homemade devices that ripped through the crowd at the finish line, killing three people.
The world got its first look at the suspects three days after the April 15 attack, when the FBI released surveillance photos showing two men identified only by their baseball caps as "black hat" and "white hat."
The 12-minute film "Jahar" tells a fictional story of how three friends of Dzhokhar Tsarnaev reacted when they realized he was the man in the white hat. It was written by two high-school classmates of Tsarnaev, who was convicted last year of carrying out the attacks and sentenced to death.
Debuting next week at New York's Tribeca Film Festival, the film shows three teenagers trying to understand how the friend they knew by the nickname "Jahar" could have been involved in an attack that wounded more than 260 people, more than a dozen of whom lost legs.
The film, written by Zolan Kanno-Youngs and Henry Hayes, cuts between the friends' memories of hanging out with Tsarnaev, smoking marijuana and laughing, and struggles to accept his role in the attack.
"We had this very personal experience and these very raw emotions and we weren't really sure how to get them out. And me personally, just days after it happened I tried to write something and it was impossible, it was to raw. And so about a year later Zolan and I got together and we wrote this script because we had things we wanted to say. You know, we had this pain and we had this feeling of – we were ready to tell this story from our point of view," said Hayes.
At his sentencing in June, Tsarnaev admitted to carrying out the bombing with his 26-year-old brother Tamerlan, who died four days later following a gunfight with police. The younger Tsarnaev, now 22, left a note describing the attack as an act of revenge for U.S. military campaigns in countries that are mostly Muslim.
"Jahar" has a very different focus from that of the forthcoming "Patriots Day." That film, about then-Boston Police Commissioner Ed Davis and the hunt for the bombers, stars Mark Wahlberg and is due out in December.
"We're not trying to say that, you know, the pain that's shown in this film is equal or even compares to the pain that people felt, you know, who had a relative at the finish line. This is, as Henry said, a personal story, it's a narrative, but at the same time it's another piece of the story. We're both storytellers and I think that we both respect that – we both respect telling a whole part of a story," explained Kanno-Youngs.

"We both hope that some people, at least, go to the film and realize that when something this horrible happens that there is all kinds of pain that's felt. There are all kinds of victims. And this is just one small story, 12 minute film that tries to tell the story of some of those people," he added.
Some of the teens depicted in the film are angry, but one of them is reluctant to believe Tsarnaev is guilty, clinging to a memory of a young man who talked a police officer into allowing him to drive eight inebriated friends home from a suburban party in an overloaded car.
This screen conflict mirrors history. Former classmates of Tsarnaev appeared in court following his April 19, 2013, arrest, voicing support and denying his guilt. By the end of his trial, his most visible supporters were a handful of anti-death-penalty protesters, who say the sentence he awaits at a maximum security prison in Florence, Colorado, is unjust.
Tsarnaev, an ethnic Chechen, and his family came to the United States a decade before the attacks, settling just outside Boston in Cambridge, Massachusetts. His parents failed to thrive and eventually returned to Russia, but Dzhokhar remained, living with his brother and becoming a high-school wrestling star.
Hayes, who also directed the film, said he hoped it would prompt people to analyze what set Tsarnaev on the path to violence.
However Kanno-Youngs said there is one thing the film didn't do for him.
"To be honest, it didn't… provide me answers for why he did it. But that's not why I tried to write it. I wrote it with Henry to come to peace with the fact that I might not never know why he did it."