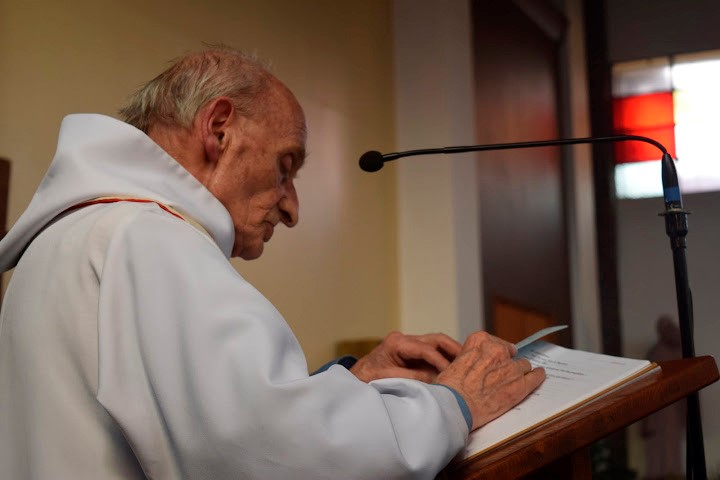 Join Us In Memory of Jacques Hamel, for Peace and Cohesion
We have all been horrified by the murder of Father Jacques Hamel in his church in Normandy a few days ago.
The killing of a man in prayer shows that the threat of extremism and terrorism is very real and knows no boundaries. Also, IS inspired extremists know that it is this co-existence between communities which is a threat to their way of life and that communities living, working and growing together are the polar opposite of their desire to create a religious war and divisions. We simply cannot let them tear our communities apart and people of goodwill who are of faith and of no faith must come together to show that we will always remain united in the face of extremism and terrorism.
Furthermore, we cannot give ground to forces that seek to divide us as communities. France may seem a million miles away, but it is merely hundreds of miles away from our capital city and this means that we must remain vigilant and determined to protect the social cohesion, (the grey zone of empathy, respect and tolerance), that Daesh or IS inspired extremists seemingly want to damage.
In light of this, Faith Matters is holding a 2 hour symposia on Monday the 1st of August between 1-3 pm in the afternoon. The symposia will involve faith and civil society leaders and activists and those who believe that we need to come together and show that we are united in the hope that we can overcome hatred, extremism and terrorism. It will also provide some much needed re-assurance and public messaging for communities at a time when there is uncertainty and where fear levels are sadly rising.
The symposia, entitled, 'Pour Jacques Hamel "Pour la paix, pour un meilleur vivre ensemble": (In Memory of) Jacques Hamel, for Peace and Cohesion', will take place at the following venue on Monday:
Made in Marylebone,
Elgood House,
10 Daventry Street,
London NW1 5NX
Please RSVP: info@faith-matters.co.uk if you are attending as there will be security at the event.
The French statement listed was one that Jacques had said many times and we honour his memory with what he stood for – life, interfaith and co-existence work.
We would be grateful if you could attend the event so that we can stand together at this time and send a strong message to the public that we are communities united in our desire to protect life, reduce extremism and terrorism and to live together with shared values.
Thank you and we look forward to hearing from you. The event will start at 1 pm sharp.