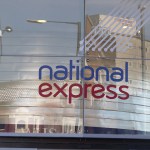 Muslim man removed from National Express coach because passenger felt 'uncomfortable'
A Muslim man had to abandon his National Express journey  early after a passenger complained to staff.
The incident took place last Thursday, according to a report in the Bristol Post. A spokesman for National Express suggested the complaints concerned his 'bulky' luggage. The passenger then left Bristol Coach Station after refusing to store luggage in the hold. Part of that luggage included a printer he did not want to store below.
Other passengers challenge that claim. Nick McDonald said that he "heard the group of women at the front of the coach say he looked 'shifty'". University of Bristol student Rebekah Makinde suggested the motive was Islamophobic profiling.
Earlier this year and the National Express coach service made headlines for the wrong reason. Yusra Ahmed, 20, and friends had attempted to board a coach from Manchester to Leeds when a driver barred them over a dispute over curry.
She had posted on Facebook that: "I told her that we weren't intending on eating on the coach, but she continued shouting to us about stinking up her coach with curry. We offered to give the takeaway food to the homeless outside and put the remainder of it in the luggage section, but she kept banging on about our 'smelly curry food'".
Her friend, Samera Hanif, 19, said that the company had acknowledged that the driver had admitted making the curry remarks. She claimed that the company would only apologise for the failure to let them board, not the racist remark.
Others are taking to social media to register their disgust. One person posted to their official Facebook: "Really … I will never use your disgusting company again and shall be advising all like minded non racists to do the same … Shame on you National Express".
National Express have been approached for comment.
Updated statement from a National Express spokesperson:
"We categorically deny that the incident in which a passenger was asked to leave one of our coaches was in any way Islamophobic. The gentleman concerned boarded with excess luggage which became an issue for a number of our other customers. Our luggage policy makes is quite clear that only small items of soft hand luggage that can be stored in the overhead compartments or underneath the seat are permitted on the customer compartment of the coach. All other items of luggage must be stored in the hold. The full policy can be viewed online at this link.

The customer refused to put his excess luggage in the hold when requested, was abusive towards our staff and walked out of the station. Our staff, who often have to make difficult decisions at short notice, remained professional throughout and are extremely upset at these serious allegations that they were anti-Muslim, which are both unfounded and untrue.

I can assure you that National Express does not tolerate behaviour by employees or customers which discriminates against any form of religion or worship. We are one of the largest employers in Birmingham and we also have a significant number of employees who are Muslim."
The post Muslim man removed from National Express coach because passenger felt 'uncomfortable' appeared first on TELL MAMA.