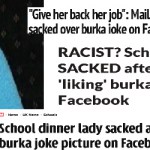 No, a dinner lady was not sacked for sharing burqa joke on Facebook
A campaign to re-instate a dinner lady sacked for gross misconduct is growing online.
Nita O'Dell, 54, had worked at the Billesley Primary School in Birmingham for almost 21 years. On her Facebook, she had shared a meme that read "Guide dog for a Muslim woman. It's called a Barka." Variations of this meme have appeared in different forms since 2010.
The school fired O'Dell for gross misconduct in September. An anonymous source had sent the school a screenshot of the shared meme. She lost the appeal last Thursday.
Yet to suggest this sacking came from this one incident is untrue. A spokesperson for the school confirmed that this was not an isolated incident. All staff had been warned about public Facebook posts. O'Dell had been on a final warning prior to the sharing of this meme.
Newspaper headlines, however, distort this fact:
"Give her back her job": Mail readers support dinner lady sacked over burka joke on Facebook

Community calls for dinner lady sacked for 'liking' Facebook burka joke to be given job back

RACIST? School dinner lady SACKED after 21 years for 'liking' burka dog joke on Facebook

School dinner lady sacked after 20 years for 'liking' burka joke picture on Facebook
This story remains a cautionary tale about public posts on Facebook. And of the need to read beyond headlines.
The post No, a dinner lady was not sacked for sharing burqa joke on Facebook appeared first on TELL MAMA.