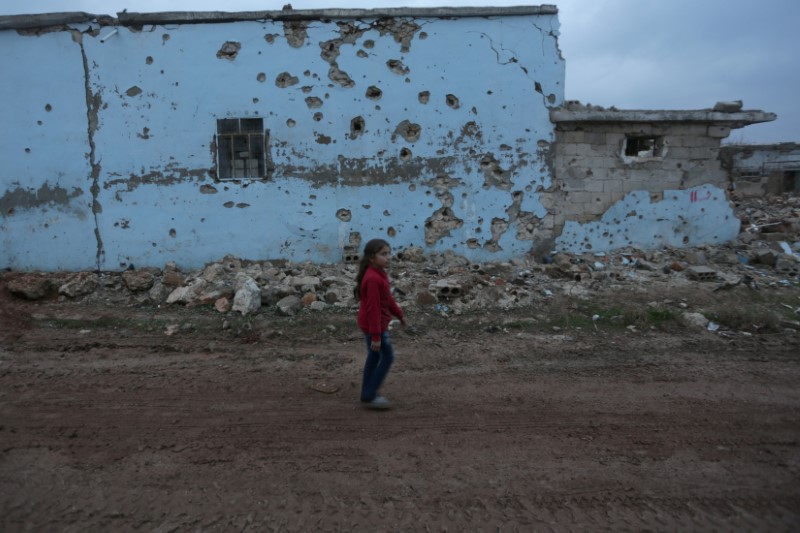 Syrian rebels say former Nusra Front fighters included in ceasefire
Syrian rebel officials said on Thursday that a ceasefire deal agreed with the government included Jabhat Fateh al-Sham, formerly known as the al-Qaeda linked Nusra Front, although the army said that was not the case.
The Syrian army has announced a nationwide halt to military operations to begin at midnight on Thursday, excluding Islamic State as well as the former Nusra Front and all groups linked to them.
But several rebel officials told Reuters the deal included the Jabhat Fateh al-Sham group.
A spokesman for the Jaish al-Nasr rebel faction present at the ceasefire talks told Reuters that only Islamic State was excluded. The deal is to be monitored by Russia and Turkey and includes establishing humanitarian corridors, he said.
Zakaria Malahifji, head of the political office of rebel group Fastaqim, also said the truce only excludes areas under the control of Islamic State.
The Jaish al-Nasr spokesman said the other side had wanted to exclude the ex-Nusra Front, and to exclude the besieged Damascus suburb of Eastern Ghouta from the agreement. But he said the rebel groups at the meeting refused.
Fastaqim's Malahifji said: "Rebel groups said it is not about covering for (the ex-Nusra Front), but because we can't separate them out, because the territory is overlapping."
Malahifji, who was not present at the talks, said rebels had agreed to three main points: one about the truce, one about how it would be monitored by Russia and Turkey and one about a political process to begin after one month of ceasefire.
Several other rebel officials also said if the ceasefire holds for a month, political negotiations will begin.
Mamoun al-Haj-Mousa, a member of the rebel Free Syrian Army's political council and spokesman for the Suqur al-Sham rebel group, told al-Arabiya al-Hadath television channel that rebels had asked that no group be excluded.
"We saw recently how Aleppo was annihilated because of 200 fighters from Jabhat Fatah al-Sham. This is a fundamental condition for us that no group is excluded be it Fatah al-Sham or not," he said.
The ceasefire deal was first announced by Russia, an ally of Syrian President Bashar al-Assad, after Moscow, Iran and Turkey said they were ready to broker a peace deal in the nearly six-year-old Syrian war.
Russia's defence ministry said the insurgent groups which signed the agreement were: Failaq al-Sham, Ahrar al-Sham, Jaish al-Islam, Thuwwar al-Sham, Jaish al-Muhajidin, Jaish Idlib and al-Jabha al-Shamia.