Enterprise Enfield Awards Business Winners!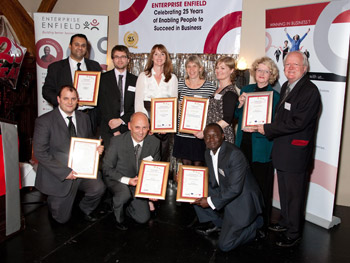 Enterprise Enfield revealed the winners of its 2010 Business Awards competition sponsored by The RSA Trust on Thursday 4th November at the Royal Chace Hotel, Enfield.  The event was attended by 100 people including: the Mayor of Enfield, Cllr Jayne Buckland, David Burrowes MP, Nick de Bois MP, Joanne McCartney, GLA Member for Enfield and Haringey, as well as businesses and representatives from Enfield Council, Business Link, the London Development Agency and other business support organisations.
The annual competition, open to all Enfield based businesses and Enterprise Enfield clients (up to 250 employees) in other parts of London, recognizes and rewards the excellence of local businesses and their achievements in six categories. It was judged by representatives from North London Chamber of Commerce, Urban Futures, North London Enterprise Club, Middlesex University, Enfield Council and expert Advisers at Enterprise Enfield.