Far-right 'freedom picnic' for Poles in Manchester features antisemitic speaker
A speaker at a far-right "freedom picnic" in the Bury area of Greater Manchester on September 15 had previously said that Poles were "being outmanoeuvred by Judeans who are trying to force our government to pay extortion money disguised as compensation".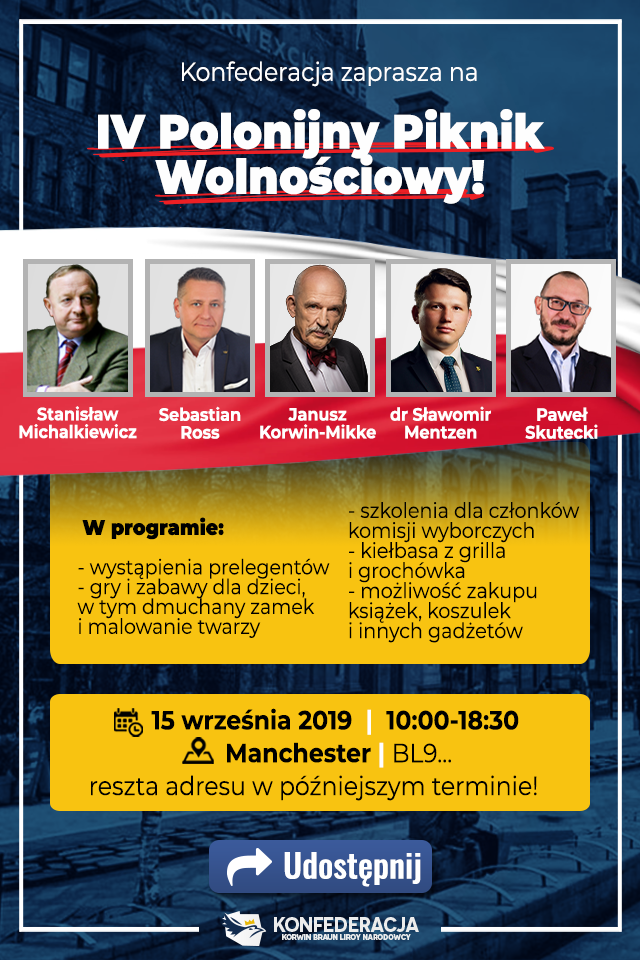 Stanisław Michalkiewicz, hosts a radio show on the Polish-Catholic owned Radio Maryja, which, according to the Anti Defamation League, has spread antisemitic messaging to its listeners for at least 25 years.
Aleksander Gancarz, the president of the Australian Institute of Polish Affairs, condemned Michalkiewicz's presence in the country last February.
Michalkiewicz is facing legal issues in Poland after suggesting that a 13-year-old sexual abuse survivor was, in fact, a "whore" after the Catholic Church agreed to award her 1 million zloty in compensation.
He also referred to gay people as "sodomites" during a Polish-language radio interview last month where the discussion included a reference to an apparent "LGBT ideology".
The event, hosted by a new far-right coalition called Konfederacja, was first exposed by Faith Matters in July, following their success among some Polish diaspora communities during the European Elections.
Another speak at Sunday's event is Sławomir Mentzen, who is credited with inventing Konfederacja's caustic slogan, "We don't want Jews, gays, abortion, taxes and the EU".
Sebastian Ross, another speaker, wrote on his Facebook page in April that some Jewish people were using "guilt" to weaponise antisemitism to generate funds for individuals and organisations to monitor it. Ross attached a cropped photo of a Jewish man with their finger in their nose to emphasise his point.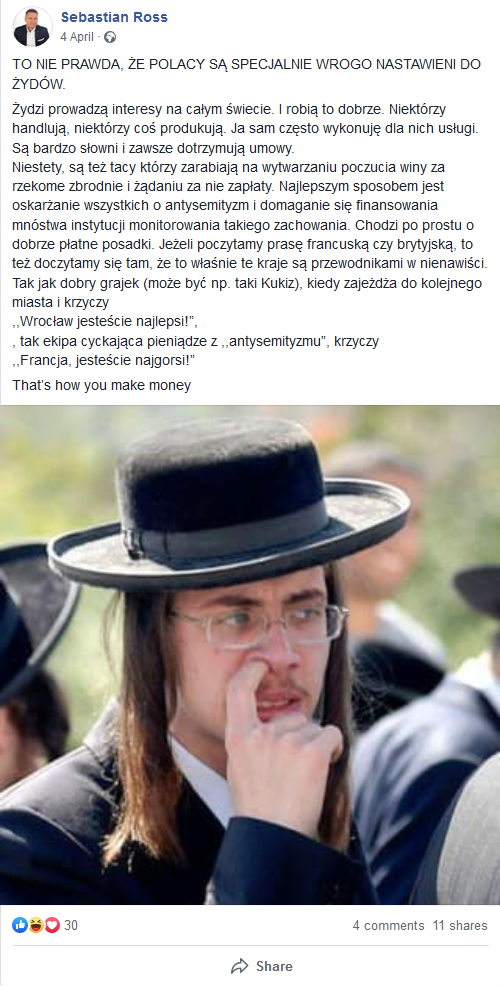 This image, however, continues to appear in neo-Nazis and white nationalist memes. ImgFlip, a popular website for creating memes, has become awash with antisemitic and Nazi imagery when using the simple search term "Jew". The top image choice for memes includes the infamous "antisemitic meme of the Jew" which appeared on White Aryan Resistance hate site in 2004.
Janusz Korwin-Mikke, the disgraced former MEP, is another confirmed speaker.
Faith Matters continues to raise concerns about Korwin-Mikke and his repellent views.
Faith Matters will be forwarding its investigation to the relevant authorities in the Greater Manchester area.