First 'top one-hundred' mosques for women revealed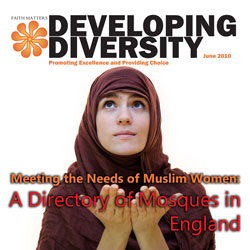 The top one hundred mosques for meeting the needs of Muslim women will be revealed at the launch of a 'Developing Diversity' directory on 10 June 2010.
The directory is compiled and launched by inter-faith, community cohesion and conflict resolution organisation Faith Matters, with government and national women's Muslim groups' support.
Every mosque in the 'women friendly' directory is listed as either five or four star depending on how many of the five key criteria, identified by Muslim women as important to them in their places of worship, they met.
The five key criteria include the provision of separate prayer space for women; services and activities geared towards women; and an Imam or female scholar who is accessible to women. The inclusion of women in decision-making processes and on mosque committees were also considered of primary importance to Muslim women.
This list was compiled through interviews with over one hundred Muslim women living across England from Pakistani, Bangladeshi, Somali and Turkish communities. Approximately five hundred mosques across England were assessed via telephone and face-to-face meetings against the five criteria.
Speaking at the launch of the directory, the Founder and Director of Faith Matters Fiyaz Mughal said:
"This project is the first of its kind to focus on the needs of women and their access to, and participation on the governance and day to day functioning of the Mosque.
"We hope the directory will provide key reference points for other institutions to improve upon so that they can build on the best practice examples that are celebrated here today."
Director of the New Muslims project and member of the National Muslim Women's Advisory group Batool Al‐Toma said:
"This project must be hailed as a welcome and useful exercise for the whole of the Muslim community in the UK.
"Secure and safe places for the performance of prayer for women are long overdue and will be warmly welcomed by women who have been struggling to deliver on these sought after requirements for several decades."
Notes to editors:
Event: Launch of first ever directory of women friendly mosques in England
Date: 9 June 2010
Time: 10am – 12pm
Address: The Muslim Cultural Heritage Centre, 244 Acklam Road, London. W10 5YG