Lee Rigby Murder: Murdered Soldier is Not Forgotten, Say Army Colleagues
Dressed in his combat fatigues and regimental beret, Rob, an infantryman based at Woolwich Barracks, walks past the spot where his comrade Lee Rigby was murdered, as he does most days, and nods his respects.
The only clear evidence that at this busy junction seven months earlier Drummer Rigby was killed in an act of rare bestiality and bravado is a laminated notice fixed to the railings where the soldier was set about with knives explaining that floral tributes can be left but will be removed after a few days.
On the opposite side of the road, a fragment of police tape remains tied to the railings close to where Michael Adebowale and Michael Adebolajo, their hands caked in their victim's blood, were downed by police marksmen. Careful scrutiny reveals some of their bullet holes in a nearby wall.
When asked whether he feels comfortable passing this otherwise anonymous south east London street corner as a fully uniformed soldier, Rob, who asked not to give his full name, said: "It's not a problem. Yes, we have to be aware of our security but what happened to Lee Rigby was so disgusting and unexpected that I don't think about it happening again.
"He's not forgotten – I say 'alright mate' to him most times I go past. But there's no point in us hiding as soldiers, otherwise the two sickos who did it have won."
Drummer Lee Rigby, 2nd Battalion The Royal Regiment of Fusiliers (EPA) Sat on the eastern reaches of the Thames with a 300-year history as a garrison and producer of military armaments, Woolwich, which also doubles up as one of London's more diverse yet impoverished suburbs, sits on several leylines in modern British society.
In the early years of this decade – and indeed until relatively recently – its high street and that of nearby Plumstead have played host to extreme Islamist preachers, including Omar Bakri Mohammed, the self-styled sheikh responsible for Adebowale's conversion to Islam, and Anjem Choudary, the founder of Al Muhajiroun who once counted Adebolajo in his throng.
The crossroads where Drummer Rigby was slain is also a five-minute drive from HMP Belmarsh, the high-security prison where many of Britain's most committed Islamist terrorists are housed.
And yet, it is also a fast-evolving neighbourhood with tens of millions of pounds being poured into new housing and redevelopment ahead of the arrival of the Crossrail service, which will almost halve the journey time into central London. It is far from affluent but the town buzzes with a conviction that, economically at least, things are looking up.
It is in this context that the community, whose natives range from General Gordon to the footballer Ian Wright, has had to confront, compute and tentatively move forward from the savagery committed on its streets shortly after 2pm on 22 May this year.
In the aftermath of the killing, Woolwich found itself converted from a place associated by most with the car ferry or building society that bears its name to the crucible of one of the most potent racial flashpoints of recent decades. Hate crimes doubled within days as nine people were charged with racially-aggravated assault and the English Defence League did its best to open a schism between white Britons and other ethnicities.
Today, its residents are proud that nothing of the sort took place. Within days of the murder, the community gathered in the town centre to show their abhorrence. One youth worker said race relations in the town were now better than they have ever been.
A few hundred metres from the attack scene at the Anchor for All Souls Church, Pastor Segun Adenuga said religious and civic leaders had been quick to unite and send out a message that Woolwich stood undivided by the actions of Adebolajo and Adebowale.
He said: "What happened was designed to tear apart the oneness of Woolwich. It didn't happen – people were brought closer, regardless of race or creed. And the reason that happened was because of what pre-existed this attack. People were disconcerted by what might happen afterwards but we had the links and the structures in place to show unity between Muslims, Christians, Sikhs – everybody. The community can remember [Lee Rigby] but it can also move on."
Work by police and community leaders has indeed outwardly smoothed the troubled waters created by the murder.
The Woolwich mosque, which in the 1990s hosted Bakri Mohammed and Choudary, had previously spent tens of thousands of pounds on legal action to ban extremists from its doors and was a leading voice in condemnation of the killing. Like much of Woolwich, the mosque – also known as the Greenwich Islamic Centre – is undergoing a major overhaul and expansion to cater for its growing congregation.
Its director, Dr Tariq Abbasi, told The Independent: "People responded humanly to what happened. The human response was utter horror and condemnation. But also what happened was imported into Woolwich. These two young men were not Muslims and Woolwich is not a battlefield. The centre is a place where we want anybody to come in and have a cup of tea. And we will do whatever it takes to keep extremism out."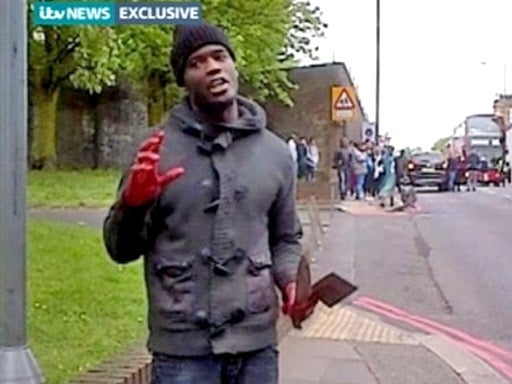 Michael Adebolajo (L), one of the two found guilty of murdering British soldier Lee Rigby But just as one of those banned from the Woolwich mosque, Usman Ali (a preacher who was issued with an injunction in 2007) merely moved his prayer meetings around the corner to a community centre also apparently attended by Adebolajo, so complex undercurrents of hardline attitudes and general uneasiness remain.
When asked for their thoughts on the killing on Drummer Rigby, a group of Somali youths in Woolwich town centre said they had found it wrong and vile. But one of their number added: "It'd be different if it wasn't the UK right. If you had a kufar attacking you in a Muslim country then you kill him."
Such teenage bravado lies at one end of a spectrum of attitudes expressed both by and against Muslims in Woolwich which leaves some concerned that distrust has been buried rather than erased.
Fiyaz Mughal, director of Faith Matters, an anti-extremist group which runs a helpline for victims of Islamophobic violence, said that it was helping 67 people from Woolwich and surrounding boroughs, most of whom had been targeted since the attack on Drummer Rigby.
While the eight-fold increase in attacks on Muslims in the direct aftermath of the killing had fallen back to low levels, ongoing attacks in south London have become more aggressive. What was once name-calling has been replaced with spitting, throwing of objects and threats of violence shouted at people in Islamic dress shouted from vehicles at traffic lights.
Mr Mughal said: "Woolwich is seen as a reference point – some mosques and communities now regard safety and security as being much higher on their agenda.
"Woolwich created a sense of fear and disgust – disgust that two young men were using Islam as justification for their murder and fear of being targeted among Muslims if they are visible."
Cited from the Independent, 19/12/13 edition