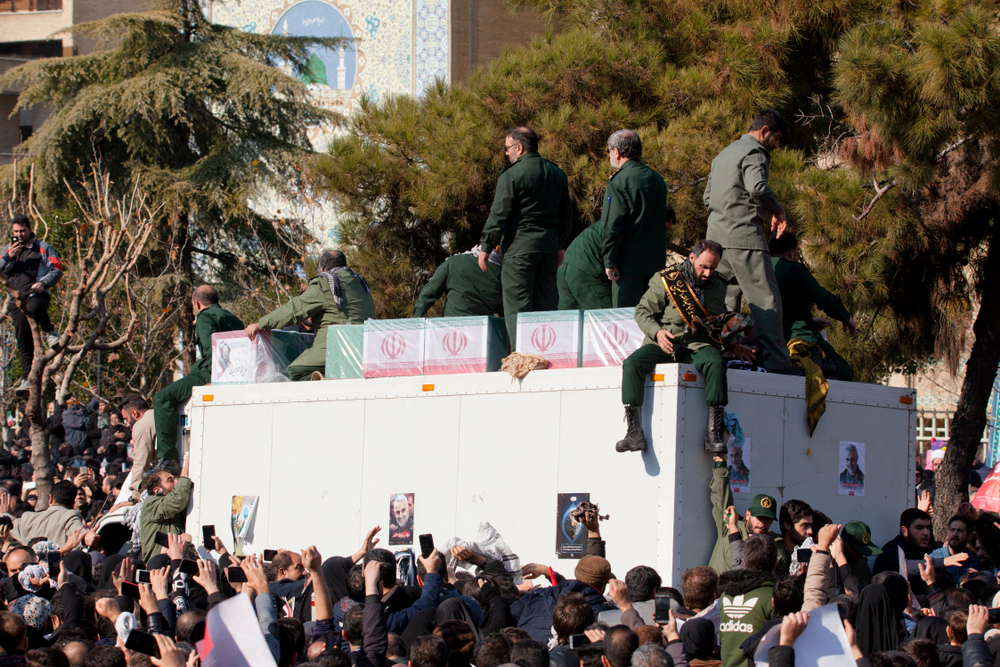 MPs hear Iranian security forces 'threaten' the lives of UK-based journalists
British-Iranian journalists based in the UK have been warned by police that Iran's revolutionary guard "threatens their lives", MPs have heard.
Conservative MP Bob Blackman raised the "credible threats" in the House of Commons during Foreign, Commonwealth and Development Office (FCDO) questions.
The MP for Harrow East urged the UK Government to proscribe the Islamic Revolutionary Guard Corps (IRGC) as a terrorist organisation.
It comes after Iran International, a UK-based Persian-language news channel, said two of its team had been notified of an increase in threats to them.
Anti-government protests have raged in Iran for several weeks.
The protesters are calling for the overthrow of clerical rule following the death of 22-year-old Mahsa Amini in the custody of the country's morality police.
Mr Blackman, who last month said he had been sanctioned by Iran, told the Commons: "Thousands of Iranians have been arrested for just demonstrating their support for people who have been murdered.
"Now I've been supplied with long list of people who have been sentenced to death for just protesting.
"And even worse now, British-Iranian reporters who are now sited in the UK have been issued with credible threats by the police that the IRGC threatens their lives.
"What more does the IRGC have to do before we proscribe them in their entirety?"
Foreign Office minister David Rutley replied: "I know (Mr Blackman) feels very strongly about these issues and has raised them at the highest level with FCDO ministers.
"We've been clear about our concerns with the IRGC's continued destabilising activity throughout the region and the UK maintains a range of sanctions that work to constrain that destabilising activity.
"The list of proscribed organisations is kept under constant review but we do not routinely comment on whether an organisation is or is not under consideration for proscription."
Iran International, in a statement, said it was "shocked and deeply concerned by the credible threats to life its Iranian-British journalists have received from the IRGC".
It said: "Two of our British-Iranian journalists have, in recent days, been notified of an increase in the threats to them.
"The UK Met Police have now formally notified both journalists that these threats represent an imminent & significant risk to their lives and those of their families."
It added other staff members have "also been informed directly" by the Metropolitan Police of "separate threats".
Several other MPs from across the political spectrum also echoed Mr Blackman's comments and called for the IRGC to be proscribed.
Tory MP Gary Sambrook (Birmingham, Northfield) said: "Not content with being the world's largest state sponsor of international terrorism, Iran is using its same terror enforcer, the Islamic Revolutionary Guard Corps to brutally repress its own people.
"And it's also now arming and training the Russian army in their barbaric invasion of Ukraine, and so in the same vein as my honourable friend for Harrow East, does the minister think it's now time to proscribe the Islamic Revolutionary Guard Corps?"
Meanwhile, Labour MP John Cryer (Leyton and Wanstead) asked: "The IRGC has led and organised the brutal crackdown on protesters in Iran. What do these fascist thugs have to do to get themselves designated as a terrorist organisation?"
Mr Rutley said he was not able to add anything further to the point he had already made to Mr Blackman.
A Metropolitan Police spokeswoman said: "We do not comment on matters of protective security in relation to any specific individuals.
"We would advise anyone with concerns over their safety to contact police so that officers can assess the situation and offer any safety and security advice as and where necessary."