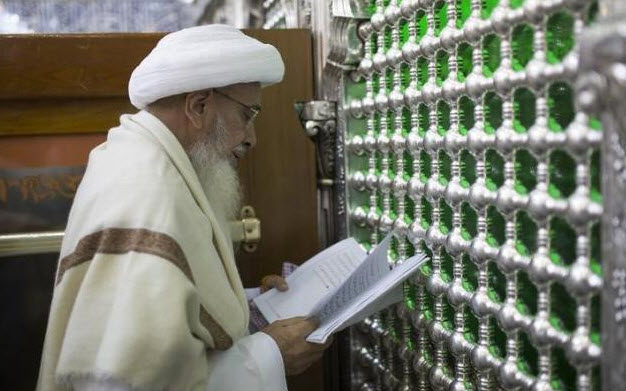 Muslim leader in India under fire from activists for supporting FGM
The leader of the only South Asian Muslim community known to practise female genital mutilation (FGM) came under criticism on Friday by campaigers who accused him of urging followers to continue the centuries-old custom.
Little is known about FGM in India, where it is carried out in great secrecy by the close-knit Dawoodi Bohra community, a Shi'ite Muslim sect thought to number over 1 million that considers the practice to be a religious obligation.
An audio clip of Syedna Muffadal Saifuddin's speech at a mosque in Mumbai, has been authenticated by several members of the community. According to a transcript, he said: "The act must be done. It needs to be done discreetly when it is a woman, but it needs to be done."
Calls and e-mails to a spokesman for the Syedna and the leader's administrative office received no response.
"The speech is a huge disappointment for us," said Masooma Ranalvi, who was cut as a seven-year-old and leads an online petition as part of the 'Speak Out on FGM' campaign, which has drawn almost 50,000 signatories, including Mia Farrow, who tweeted her support on Thursday.
"Ever since we began the campaign, there has been only silence from the clergy. But now that it's out in the open, at least there's no ambiguity about where they stand," she told the Thomson Reuters Foundation.
A person described as a close friend of the Syedna family told the Times of India newspaper that the remarks were a "general comment" and that people were "interpreting it differently".
RELIGIOUS OBLIGATION
FGM, which can cause serious physical and psychological problems, is more commonly linked to African countries which have led international efforts to end the practice.
India is not included on U.N. lists of countries affected by FGM. Campaigners estimate that up to three quarters of Bohra girls are cut.
Although it is not mentioned in the Koran, the Bohras consider 'khatna' – the removal of part of the clitoris – to be part of their religious duty, and debate on the subject has long been taboo.
But the practice among Indian Dawoodi Bohras hit the headlines in November when a court in Australia found two members of the diaspora community guilty of cutting two girls. A Bohra religious leader was convicted of being an accessory.
Since then, more than a dozen Bohra communities in Europe and the United States have passed resolutions against the practice.
"Why should girls in some parts of the world be spared from circumcision, while girls in other countries continue to be cut?" the non-profit group Sahiyo, which aims to end FGM in India, posted on its website on Friday.
"The strongest form of opposition to khatna is now coming from within the community."
Campaigners will now focus on petitioning the government while still working with the community, said Ranalvi.
"There is hypocrisy in the clergy's stance, so the government is the most important route open to us now," she said. "We need them to step in to protect our girls."