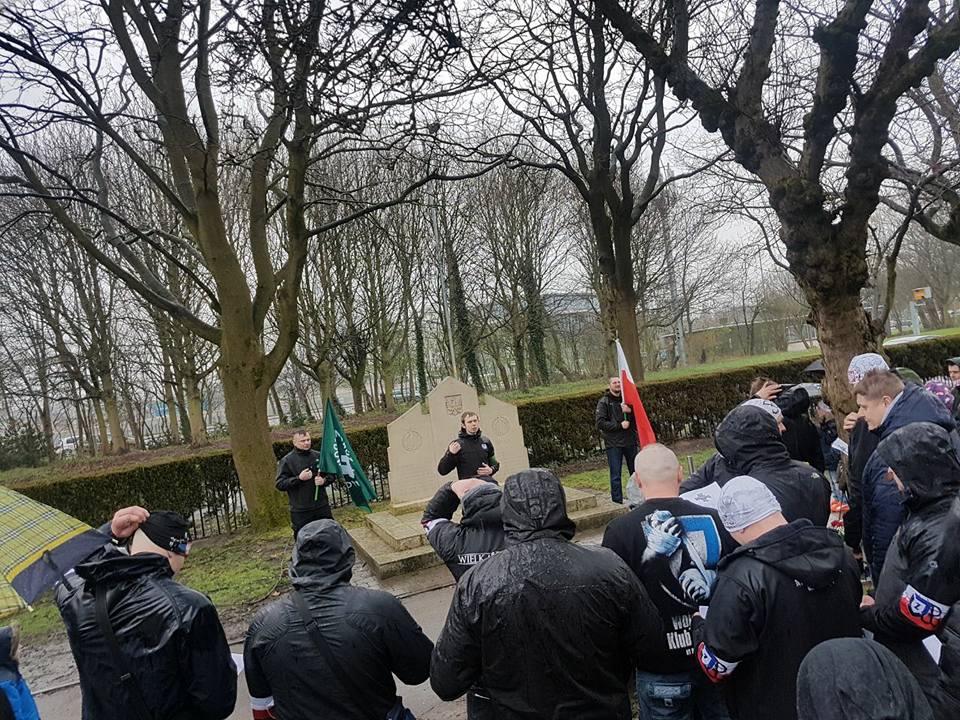 Neo-Fascist ONR, Obóz Narodowo-Radykalny, Offshoot in Manchester
Oboz Narodowo-Radykalny, (ONR), is also known as the National Radical Camp. It is a fascist and far right organisation which considers itself to be a legacy of the antisemitic movement of the same name which existed during the Second World War.
Three days ago, members of the ONR celebrated an anniversary of the organisation in Gdansk, the heartland of the 'Solidarnosc' or Solidarity movement. It was the 84th anniversary of the movement and hosting the march with uniform clad individuals in the heart of Gdansk was a chilling message sent out to others in the nation. Gdansk holds a special place in the heart of many Poles as it was the start of the liberation movement from Communism. By marching in Gdansk, the message was clear, that far right groups were part of Poland. 
Speaking at the event held in a historic hall in Gdansk, the former ONR chairman Artur Zienkiewicz said,
"Poland must remain uniformly culturally and homogeneously ethnic. We will defend our frontiers against immigrants."
According to Gazeta Wyborcza, a march took place in the streets of Gdansk with several hundred uniformed marchers shouting slogans which included, "we will fight for the Homeland" and "Great Poland, we will defend our holy faith".
This is a menacing video of ONR members walking through the streets of Gdansk.
In response to this march, the legendary Solidarnosc leader and former President of Poland, Lech Walesa, waded in with the following tweets:
Walesa's Twitter comment highlighted the threat that he saw coming from the ONR. 
"Are these the "values" Poles fought in December 1970 and August 1980 in Gdańsk? I ask when will PiS delegalise them? What do we all wait until they occupy (the) authorities?"
Tentacles to Manchester
In the UK, ONR go by the name of "Narodowa Emigracja" or 'Nationalist Emigration'. Whilst they are limited to a Facebook group, their activist base is small and based in and around Manchester. About a week ago, activists held a gathering to commemorate the Katyn massacre, the mass execution of Polish military officers by the Soviets in April 1940. The commemoration was held at the Southern Cemetery in Manchester. 
What is particularly worrying is that children can be seen at this memorial meeting and there are potential safeguarding risks here. The arm-bands of ONR are clearly visible as are flags of the neo-fascist group, this in Manchester in the United Kingdom. 
This information will be passed onto the authorities within the UK given the potential of safeguarding risks to children.