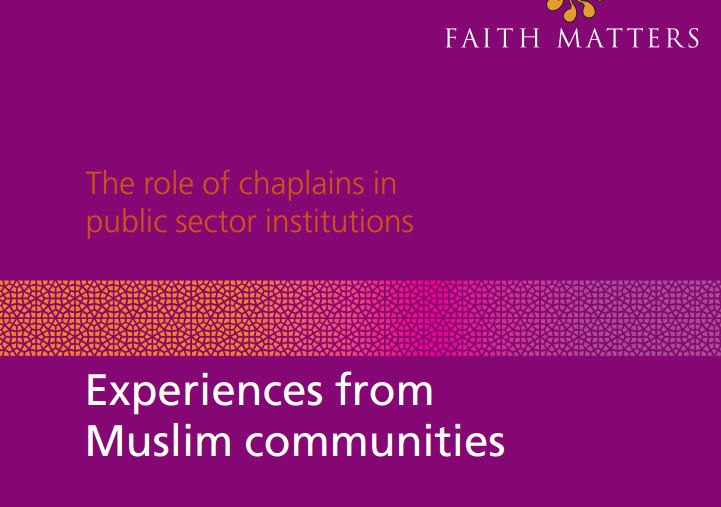 New Guidance set for State Chaplains
Support for chaplains working in universities, colleges, hospitals and prisons, is to be improved under new guidelines launched today.
The guidance The Role of Chaplains Working in Public Sector Institutions: Experiences from Muslim Communities, is funded by the Department of Communities and Local Government and written by Faith Matters. It draws on best practice of Muslim chaplains and their communities.
By setting out core standard skills, knowledge and training, the guidelines aim to support chaplains in caring for and protecting vulnerable people. These include students, prisoners or patients, who away from their homes and communities or experiencing sickness and bereavement, may be susceptible targets for extremists.
In recent years, public institutions and faith communities have done much work to formalise, professionalise and support the work of state chaplains. As a result, some institutions have rigorous structures in place, but many others are in need of further development.
To illustrate how the skills, knowledge and ability criteria, laid out in these guidelines can be involved in public institutions, the guidance uses a range of different case studies across hospitals, universities and colleges. One example of is of a hospital chaplain who combined his counselling skills and theological knowledge to reassure a mother giving birth that being seen by a male doctor is acceptable within the laws of Islam when life is in danger.
As the role of chaplain varies across institutions, this document sets out eight core competencies related to the spiritual, pastoral and emotional support role of chaplains. It also provides a 'checklist' that employers might wish to use to assess their recruitment processes and assess the suitability of candidates.
Speaking at the today's launch, the author of the report Faith Matters director Fiyaz Mughal, said:
"This guidance is aimed at giving employers, the public and chaplains themselves, more confidence in the role of chaplaincy to make it pivotal to the way institutions work compassionately, fairly and safely.
"By providing better support to chaplains and their employers, through these guidelines, we can stop extremists preying in places, such as prisons, hospitals and universities. Here, many people are susceptible to extremism messages as they can frequently feel vulnerable, alone and confused."
Welcoming the guidance, Communities Minister Shahid Malik said:
"Anyone working with vulnerable individuals is placed in a position of responsibility and trust. Employers, the public and chaplains themselves need to have the confidence that this work is being carried out effectively.
"The guidance is about supporting that by highlighting existing best practice and identifying potential skills gaps and training needs footing.
"Recent events have led to questions about the influences at work in some of our institutions. We know that chaplains are not the problem when it comes to tackling extremism but they can be part of solution. By offering the support, advice and theological guidance to individuals who may be attracted to a distorted view of religion or society they have an important role to play in ensuring that extremists do not gain any traction in our public institutions."
Ends/
Notes to editors:
Click below for a copy of the report:
The role of chaplains in public sector institutions: Experiences from the Muslim sector
For further information or to arrange an interview with the organisation's founder and director, Fiyaz Mughal OBE, please contact Holly Sutton This e-mail address is being protected from spambots. You need JavaScript enabled to view it or contact on: 07966280542
Notes
1)   This guide will be launched at the University of Westminster on 22 March – please e-mail: holly@journalista.co.uk if you wish to attend.
2.)   The guidance outlines a recruitment process that is:
tailored to the needs of the institution and users

open and transparent

involves faith organisations and professional chaplaincy associations

and details competencies that may be relevant to the chaplaincy role including:

an ability to speak English to an appropriate level;

a good understanding of the values and ways of working of British institutions;

communication skills that enable difficult issues to be dealt with;

a commitment to respecting the rights and beliefs of others and to working as part of a multi-faith team

a respect for shared values of freedom of speech, respect for the rule of law equality of opportunity

the ability to provide theological guidance to those who may be vulnerable to messages of violent extremism

a commitment to supporting individuals who may be targeted by violent extremists.
3.)   Guidance on the recruitment and employment of Muslim chaplains currently   consists of existing HR practices and procedures within institutions and sectors.
4.)   This report forms a voluntary set of guidelines which will be distributed to institutions and to those who express an interest.
Interviews are available with:
Fiyaz Mughal – author of the report. The director of Faith Matters, which works on interfaith, community cohesion and Prevent project

Aaliyah Shaikh – female Muslim chaplain at St Mary's Hospital, Imperial College Healthcare NHS Trust

Asghar Halim Rajput – male Muslim chaplain at Brunel University and director of Muslim Chaplains in Education

Yusuf Kaplan – interfaith advisor and Muslim chaplain at Westminster University

Yunus Dudhwala – head of Chaplaincy and Bereavement Services and Muslim chaplain at Newham University Hospital NHS Trust