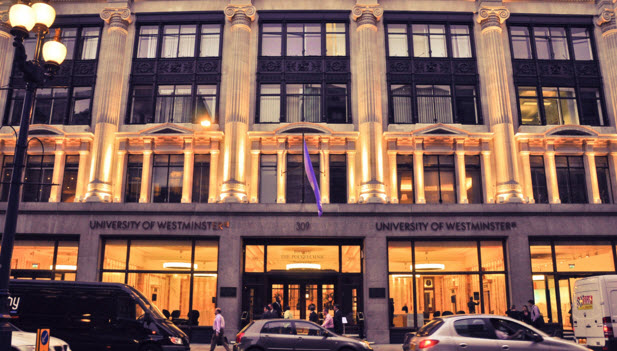 Westminster university Islamic students' society dominated by ultra-conservative Muslims
The Islamic students' society at the London university attended by the militant known as Jihadi John is dominated by hardline, ultra-conservative believers who refuse to even speak with female Muslim staff members, according to an independent report into inclusion among students at the institution.
Complaints about the conduct of the University of Westminster Islamic society, some from other Muslims, tended to be ignored or underplayed because staff and student unions officials were worried about appearing Islamophobic, the inquiry found.
Members of the society itself acted as "apostles of a self-contained faith, concerned very largely with matters of religious orthodoxy and perceived heresy", according to the four-strong inquiry panel, who included the historian Lord Kenneth Morgan and Fiyaz Mughal, a former adviser to Nick Clegg on interfaith matters.
Their report found university officials tacitly tolerated a "sometimes hostile or intimidatory" attitude to women on the campus, calling this "totally unacceptable". Islamic society committee members would refuse to engage with female Muslim staff, the panel were told, obliging these to seek help from male colleagues to communicate with the group.
Westminster commissioned the report into its balance between free speech and diversity in the wake of concerns about extremism on its campuses, including the revelation in February that the British Islamic State militant Mohammed Emwazi was a graduate of the university.
Emwazi, known as Jihadi John, was named as the masked figure who appeared in a series of Isis videos in which British, US and other hostages were beheaded.
Following the identification of Emwazi the Westminster Islamic society cancelled a planned address by Sheikh Haitham al-Haddad, a preacher who has reportedly described homosexuality as a scourge and a criminal act.
However, a recording has emerged of Hadded addressing a 2013 event at the university, in which he talked of a future in which Islam was dominant. He said: "Once we as Muslims become one of the superpowers of the world, justice will prevail. Everyone will enjoy the benefits of Islam."
The panel's report was released more than a week ago, but has not been publicised by the university and remains on a hard-to-locate part of its website.
Mughal, who now runs the Faith Matters thinktank, said the Islamic society could not necessarily be called extremist, as there was no evidence that its members fomented hatred, for example against Jewish or LGBT students. However, he said, it appeared dominated by men espousing very conservative views on matters like correct dress and faith.
"It's not a breeding ground for extremism, but it's a breeding ground for very ultra-conservative views," he said. "The question has to be asked, in a modern pluralistic society where information is changing the way we think rapidly, how is that healthy and how will those students be able to relate in the world we are in?"
University of Westminster staff were doing the best they could to balance the competing needs of an institution with more than 150 nationalities among its 20,000 students, Mughal said, but had clearly made mistakes, notably in allowing the "far too divisive" al-Haddad to speak.
The report found the university tended to be wary of taking action against a particular group for fear of seeming prejudiced. It said: "For example, the panel heard repeatedly that action over concerns about the conduct of the Islamic society had not been taken for fear of appearing Islamophobic."